If you want to go... We can sail there...

Now Sailing in the Florida Keys!!!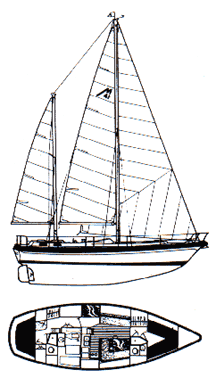 Our "mother ship" is a 1982 Morgan 416 41' Out Island "Owners edition" cruising yacht. Majestic is the 1975 414 predecessor, used initially by the Annapolis, Tulane, and St. Marks NROTC. The Morgan Out Island sailboats were designed by Charlie Morgan and built near my hometown, Clearwater, Florida. Lovingly called "Fat bottom girls" they are extremely stable sailing vessels designed for the Caribbean Sea. They are 41.6' long, 13.8' wide, with a draft of 4'2. These dimensions, and the modified full keel make them supremely suited for cruising in the Caribbean, which includes the waters around our Florida Keys. We are ketch rigged, which increases our sail area for a great stable ride.
Below decks, our V-berth, at the bow, comfortably sleeps 2 tall adults. The forward head is complete with a fresh water shower. The dinette is adjustable to sleep another 2 tall adults, and the settee sleeps 1(only available on Utopia). Your crew lives in the aft cabin. Our galley has both propane and electric cooking appliances, and an outdoor propane grill. We have an awesome refridgeration system, including making ice.
We added a CruiseRO reverse osmosis watermaker so we never run out of fresh delicious water, solar panels generate sufficient power to keep our batteries always topped up so you can charge your personal electronics via our 12 volt (like a car charger) wired-in USB outlets, or plugged into our large capacity power inverter.
Not shown in this stock diagram is hard-top bimini over the cockpit and a dive ladder at the stern.
Have another destination in mind?
Destination Adventure Travel
As cruisers for many years, we have the knowledge, skills, and experiential backgrounds to sail you to the destination of your dreams! Your availability is our only time constraint!
Don't have a destination in mind? We can discuss trip options that will fit your needs!
Some cruisers spend all their time exploring the wonders of the Florida Keys! Check us out on Google Earth! We love exploring the Atlantic reefs and the back bays of Florida Bay. We can stay off the grid indefinitely, or change gears drop anchor near shore and dinghy in to enjoy the awesome music scene we have up and down the Keys!
Our home base is Marathon in the Florida Keys. We have the total flexibility to meet you at an alternate nearby location.
Experienced? Novice? We have been in, under, and on the water for a lifetime. If learning to snorkel is your dream, we can make that happen! Teaching you to snorkel is about your desire to explore the world beneath the sea. If you can swim at the beach, you can snorkel at whatever location we cruise to. Tell us how you learn best and we can help you find her secrets!
If you have snorkel gear that works for you, please bring it along! If not, we have a supply of masks & fins and will be sure of "fit" before we head out on your adventure!
When cruising, entering and exiting the boat requires your ability to climb a ladder of a few steps whether boarding the dinghy or dipping into the sea...
Ever caught your own lobster dinner?
This could be the day!
We catch our own "bugs" in waters 6-8' deep. Our boat carries a Florida fishing license that includes our guests, so no need to buy the out-of-state license if you are with us!
Never caught a "bug"? We are happy to teach you the tricks, and provide the necessary equipment!
Lobstering is available during our charters starting with Mini-season, the last Wednesday/Thursday every July, and again during the annual 8 month long season starting August 6th and ending March 31st every year.
Our guests are licensed to collect through our FWC vessel fishing license, so as long as you are our guest, you're legal!
Please request more lobstering information via our contact page!
Curious about the cruising lifestyle?
Jay and I are happy to share, discuss, educate, and problem solve cruising life joys and pains...
Want to learn practical sailing? Or just get a feel for how this amazing lifestyle can work for you? We got you! We haven't around the world, but we have been around the islands a few times. Just discussing your thoughts and sharing our real-life experiences with you can make all the difference!
We have both been mentors in our previous work lives, and love to share our adventures and our life onboard!
Please request more information via our contact page!
Currently, our plans include Puerto Rican surfing adventures! Rincón, PR boasts several surf breaks so they are rarely at a loss for waves.
We have an inventory of surfboards for you to choose from, or you may fly in bringing your own personal equipment! Please bring your own water shoes, the surf breaks have rocky approaches.
Don't know how to surf? We have you covered! Jay & Isaac are expert surfers who has taught children and adults to successfully master surfing skills!
Want a real authentic surfer experience? Come camp on the beach between sets, or for the night! Campfires, guitars, and new friends...
Please request surfing information via our contact page!
Our plans include several different sailing adventures!
Sail like an explorer to islands off the coast!
Snorkeling & lobstering... we have gear for you to choose from, or you may bring your own personal equipment! Please bring your own water shoes, the coast is rocky.
Humpback Whales migrate every year from December to April between Puerto Rico and Isla Desecheo in the 3000 foot deep trench. We will take excursions, as well.
Don't know how to snorkel or sail? We have you covered! We are experts, with years of experience. We have taught children and adults to successfully master the required skills!
Please request sailing/snorkeling information via our contact page!
Compare packages & click select to contact us. Max Number of passenger varies per vessel.

50% down payment to reserve your trip

7 day prior to departure cancellation policy
additional guests $30 each
Fishing & L​obstering (in season)
Snorkel gear & Meals included (BYOB)
additional guests $30 each

To Reefs, Bahia Honda, Back Bay, or John Pennekamp
Fishing & Lobstering (in season)
Snorkel gear & Meals included (BYOB)

additional guests $60 each
To Reefs, Bahia Honda, Key West, Marquesas Keys, or John Pennekamp
Fishing & Lobstering (in season)
Snorkel gear & Meals included (BYOB)
Non-GMO! Gluten-free? Vegan? Omnivore? Paleo? Keto?Carnivore?
We eat a healthy, organic, GF diet we call "Flexitarian"! When you book your dream adventure we will have a set of menu options that you choose before we depart! This is your dream trip after all.
When you decide to book we will email you a diet survey. When we are cruising in remote areas we can't "run to the store" as we may do at home. To ensure you have a successful vacation, we want to be prepared!
We travel with a small, "uber" friendly service dog. Jack is neutered, and always "up-to-date" medically for foreign travel.
If you travel with a pet, that has a Veterinary travel health certification, and you are able to lift your pet the 4.5' height to the top cabin step, contact us about bringing your pet along.
Jack is "astroturf" trained, and can teach your dog to relieve itself while cruising!
If you travel with other potentially "boat-friendly" animals, please contact us in advance!
No Crocodiles, Please!!!
If you both love the sea, there isn't a more special romantic place to share your forever moment than on the water. Capt. Terry is an ordained Non-denominational minister, as well as a Florida Notary. (So we have multiple legal ways to complete your marriage license!) We are happy to sail with as many as 6 passengers for your nuptials. Whatever dreams you have for your moment... contact us and we will do our best to make your dreams come true!
The circle of life is the only guarantee we get in this world... If your deceased loved one shared our love of the sea, we would be honored to assisting in placing their Cremeans in the sea. Please contact us about available options...
The Great Florida Reef, know as the "Keys" is the third largest barrier reef in the world! It's the only living coral barrier reef in the continental United States. Sombrero Reef is 4 miles off the city of Marathon-our home base. We cruise east to Key Largo's many reefs, including Christ of the Abyss! And, we sail south to Key West, the Marquesas Keys & Ft. Jefferson.
The Florida Keys National Marine Sanctuary supports a mooring buoy system to help boaters enjoy visiting the reef without destroying the corals by anchoring. From the Upper to Lower Keys there are 490 moorings spread over the 25 marked reefs. Reef-building corals grow in long rows with sandy tunnels between.
The Wind is Free! The Majestic story part 6
35 Sombrero Blvd
Slips 24 & 26
Marathon, FL 33050
Sailing by advance reservation only. 2 night/3 day minimum private charters max 4 adults (6 passengers with small children).
NO Walk-ups
Come on a video tour!

YellowBird is FOR SALE!!
For Sale!

Contact us for more details!
Our most recent addition to the Sail to Utopia fleet is YellowBird! She is a 1964 ChrisCraft Sail Yacht #78/80 and the first fiberglass boat and first sailboat built by the famous ChrisCraft Brothers! I originally acquired her in 2009, and she has been re-fit from stem to stern. She boasts a Mercedes 220D marinized engine, new sails, and many other modern updates. Her sailing attitude intact, she rolls thru the waves like the lady she is!
Price dropped to $37,900.00
Our travel plans have been delayed by the current WORLD travel restrictions!
We have found, and visited our new marina home!
Marina Pescaderia, Puerto Real, Cabo Rojo, PR.
Our boats will be in slips, in a gated marina, (with updated fast wifi, a beautiful bath house, and laundry)
when we aren't out "adventuring"!
We will post when we start accepting reservations to
sail, surf, fish, snorkel, lobster, Whale watch (migration December to April), hike, cave, explore,
and zip-line your way to an
AMAZING Caribbean-American vacation in our own Puerto Rico!
With daily flights to and from the U.S. mainland on Spirit Airlines, Jet Blue and others, you can join us aboard
Utopia or Majestic for a vacation "tailored" to your personal interests and dreams!
Subscribe to our You Tube Channel "Sail to Utopia!" and follow us for vlog updates as we travel from
Marathon, in the Florida Keys to Puerto Rico!
Coming SOON!!!
This site is always gonna be "under construction"!
I have happily made lots of contacts with new friends and potentially, guests for our cruising vacations. I wanted to offer some content that would give you ideas about we offer, and let you know that we are willing to explore any ideas or dreams you might have for a sailing vacation! We have a FaceBook page "Sail.to.Utopia" and a YouTube channel "Sail to Utopia!" and an Instagram account...you guessed it Sail to Utopia! Join us there for updates! Our second Morgan 41 Out Island (s/v Majestic pictured here, as we found her) is being totally refit, for your cruising comfort! We still have lots to do but a new "up-date" video is in the making!
Check back often... I have more to add!
Capt. Terry 07/30/2020
/